How This British Nail Art Star Is Reinventing 9-to-5 Style
While the bold presence of certain young breakout designers at New York Fashion Week seemed to announce a new progressive, individualistic trajectory for the industry, London has long taken an adventurous, fearless approach to style. From the days of Mary Quant miniskirts to DIY punk to today's plays on gender and race, trends are meant to be bucked or reimagined altogether. And one of the city's prominent creative forces, WAH Nails owner Sharmadean Reid, is a testament to this natural-bred flair.
Reid was at the forefront of the nail art craze that swept the world beginning in 2009, and her personal style is just as imaginative and irreverent, a product of both her Jamaican roots and her fascination with British tradition. At work and off-duty, she incorporates an exuberant mix of military-inspired outerwear, colorful Caribbean inflections, and plenty of newfound local designers. Moments after escaping backstage at London Fashion Week, where she and her team of nail artists worked the shows, Reid chatted about the local designers who excite her, why she never matches her manicure to her look, and how she draws inspiration from Rihanna fan Instagrams.
"Sleep Is for Billionaires" = The WAH Mantra
I totally got into WAH Nails accidentally. I was a stylist and had no intention of being in the beauty industry: I just really wanted a space for my friends and me to hang out and get our nails done. It didn't exist, so I thought I would build it myself. This was in December 2008—I started working on it straightaway, and we opened the first salon in Dalston in summer of 2009. "Sleep is for billionaires!" is my business mantra. I don't deserve to rest yet! We're currently working on a really exciting clothing collaboration, which will come out in a year; a pop-up salon with the French football championship in Paris; and starting a big summer school festival to teach girls career skills and business entrepreneurship.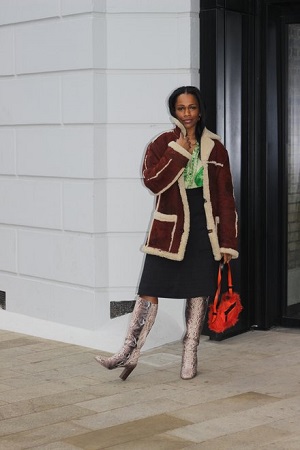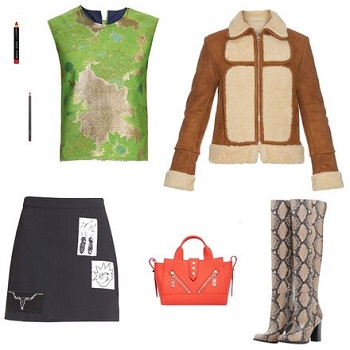 Starting the Workday in PJ's
A typical day starts with me sitting in my pajamas answering all my emails and clearing my inbox around 7:00 a.m. I will go to the salon after dropping my son off at school, check on the girls [nail technicians], and we might shoot a little GIF for Instagram. Inspo is important, and we try to make all the content fresh, original, and fun. I talk a lot with my staff about social planning, and then I'll work on collaborations and business developments. So I might work on the production for the clothing line, or maybe I'm going to Paris to view locations for our pop-up salon, or I'll send new product ideas off to my manufacturers.
Traditional Style With a Twist
I like to dress fairly classic but with a weird, unexpected twist. I love being British and I think eccentricity is part of our heritage. I like jeans that are loose-fit but a bit tight on my bum. Lately I like going on the high street for jeans and just finding really throwaway pairs. My favorite ones are from Zara's teen line that have rips and frays, and they're ultramarine blue, which is my favorite color for denim. For sweaters I'm really into cashmere and lambswool. I am obsessed with this one line, Hades; they embroider bands on lambswool sweaters. I bought one with "The Slits" across the front, which was an influential all-female punk band from London. And always with Bass Weejuns loafers! I feel like royalty.