First Ladies Michelle Obama and Juliana Awada Finesse a Fashionable Alliance
Sure, on the heels of the president's landmark Argentinian visit, the world is abuzz with talk about that tango, but what we couldn't help notice is the apparent fashion connection between First Lady Michelle Obama and Argentina's First Lady, Juliana Awada. Yesterday in Buenos Aires, in a bright blue floral Michael Kors dress from the line's Spring 2019 collection, FLOTUS embraced Awada, who wore one of her signature all-white pantsuits. The chic world leaders chatted before Obama spoke to a crowd of young women about Obama's "Let Girls Learn" initiative.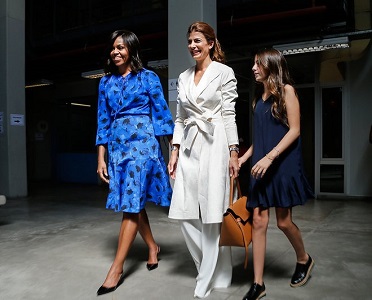 More serendipitous signs emerged later that evening, when Obama and Awada both arrived at the lavish state dinner in practically matching twirl-skirt frocks. But true to form, the two fashion-forward First Ladies each put their own spin on the champagne dresses: Obama's satin number was encrusted with crystals and Awada's was intricately embroidered with lace. It made for a very stylish alliance, indeed.