Kiev Fashion Days Kicks Off With a Lot of Glitz and a Little Jane Birkin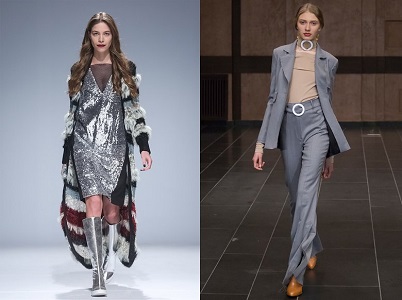 Mercedes-Benz Kiev Fashion Days kicked off with the sequin-pumped label Andreeva by Olga Andreeva. Inspired by Milton Glaser's "I Love New York" logo and his kaleidoscope-swirled posters from the '80s, Andreeva's nightclubby collection included plenty of mesh. The fabric took the form of sleeves tacked onto a silk jumpsuit that was striped in candied hues of red, green, and peach, and as the black-and-white panels of a brocade dress. There were more discreet pieces as well, like a dress with the front covered in silver sequins, which Andreeva paired with a sweeping cardigan made of strips of dyed ostrich feathers. Still, one of the most eye-catching looks had the least fabric of all: a mesh long-sleeved dress with sequined appliquéd embroideries that acted as glittering cover-ups on the torso—paging Miley Cyrus.
Next came Flow the Label, one of the buzziest names in Ukraine at the moment. The brand's two designers, Viktoriia Balaniuk and Véronika Vèz, have a reputation for producing looks that flatter the body, thanks to their waist-cinching cuts. This time, they looked to the shaggy appeal of Jane Birkin and used an earthy palette that echoed the shades of architect Frank Lloyd Wright's interiors. The result was a cool combination of two worlds: For a hint of biblio-chic, there were cropped bell-bottoms in creamy tan velvet paired with a sand-color vest; elsewhere a fitted blue blazer and matching bell-bottoms slit at the sides created a sexier silhouette. The outerwear, which included corduroy jackets stamped with contrasting velvet pockets, was strong. The success of the show was immediately apparent: We spied one editor hauling a three-piece velvet suit out of the building.